So I flew to Europe, drove down some stairs, took delivery of a car, drove some more, and then some more.  I drove so fast I hit about 130 MPH.  Now I'm saying goodbye and flying home.
Yes, I flew to Europe.  I also drove up some stairs as well during my GLC off-road excursion!   You can read about all my SLC driving as well.
Day Seven
Today was a much more relaxed affair.  No long distances to drive and only one appointment.  Turn in the car at 14:00.  So after breakfast, we went for a stroll past the Lombardbruke.  It was absolutely lovely outside, with the sun peaking thru the clouds and causing it to be the warmest day on the trip so far.
So I decided to skip my lovely tour of Hamburg for now and get in my SLC.  I drove with no specific direction in mind other than to take a few more photos of the SLC and get the top down.  We ended up driving around the Port of Hamburg over the canals and along side old brick buildings.
As the time moved on I set CarPlay for the drop off location.  It almost got us there, but recent construction made us have to figure out how to get on a brand new bridge instead of a closed construction site.  The drop off otherwise went smoothly with paperwork finished in less than 20 minutes including an inspection of damage, of which there was none.  We also had a nice chat with a guy dropping off his BMW M4.  This was his 6th European Delivery, so obviously highly addictive.  We chatted more and ended up sharing a taxi back to the city center.  It didn't surprise us at all that he also had issues finding the correct bridge to the drop off point.
We then decided to continue our walk and walked all the way to the Elbphilharmonie which was in Port of Hamburg.  I hadn't realized this was where I had parked to take pictures of my car.  It is such a beautiful and hip district where old meets new and modern but all with brick or stone.  There was some old wood bridges over the canals, but they only added to the charm.
Hamburg is Germany's second largest city and of course a lot of the economy is based on industry and the port.  My tour of the city only reaffirmed this but I was surprised by the variety in feel among neighborhoods and really felt I did not have enough time to totally immerse myself in the city.  I feel, I will be back.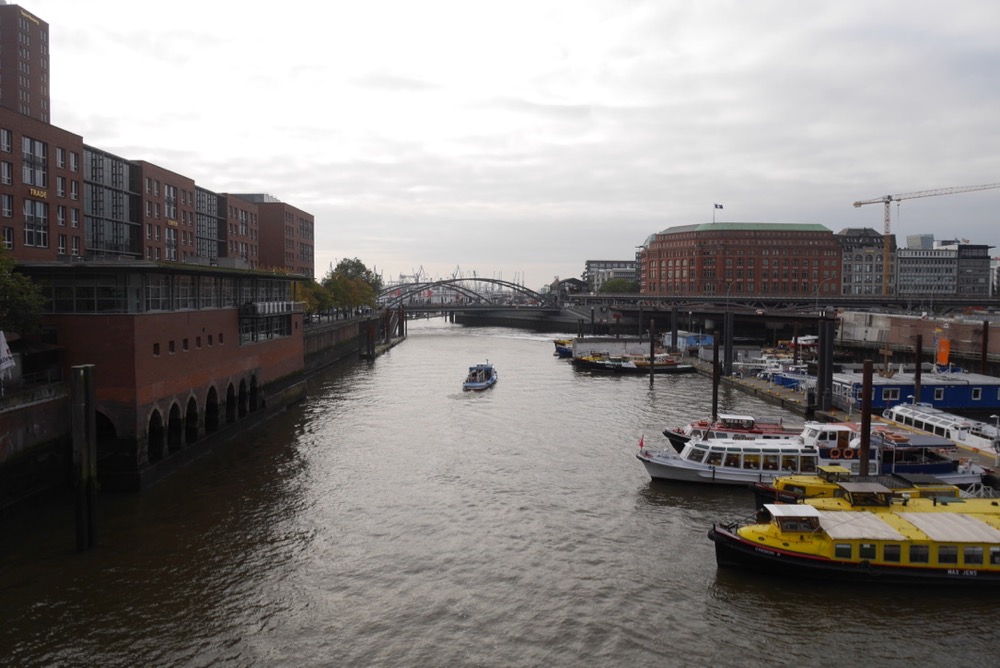 Day Eight
Time to return home.  The flight schedule did require an early start and we quickly grab a taxi for the airport.  We arrive at HAM and find the airport well designed but on the small size as a lot of airports can be for seating.  SkyPriority has us speed thru check-in and boarding and we quickly grabbed a croissant and beverage for breakfast before we boarded.  The AirFrance flight to CDG on an A320 was pleasant.  Beverage service and a cookie were provided.  I find you can never drink enough fluids when you fly.
Paris CDG is a mess.  Crowds with little direction and to switch terminals you must take a bus that it seemed everyone was waiting for.  If Atlanta can have rail, so can Paris.  Boarding the A380 to JFK is also a hot mess.  Beyond not communicating our 30 min delay until boarding had completed (though I assumed since boarding was delayed), there is little efforts at efficiency that a large aircraft ought to require.  There are two jet bridges yet the focus was on the upper deck before the lower deck.  Part of this is due to the usual boarding process that prioritizes SkyPriority customers who in this case are more likely to end up on the upper deck.  The flight and food are mostly pleasant, though I never got why they serve breakfast on a flight that lands 19:00 local time.
Immigration at JKF was quick thanks to Global Entry and luckily we speed thru security as the delay has us only getting to our final gate 10 minutes before boarding.
I'll definitely post some videos in the coming days on my YouTube channel, also keep an eye out for select photos in the Photography section of my website.
What an extraordinary trip, I wish I had known a few more details that will definitely help me (and others) if I choose to do this again, especially the activities Mercedes had planned.  I had so much fun, that I think I will.  With the 7% savings on most Mercedes-Benz models, it just make financial sense.  The savings will almost pay for your trip.  Now I must patiently wait for my SLC to come stateside, but luckily I do have a tracking number when I can track the progress.