I recently made a quick visit to Bergen, Norway.  It really is such a beautiful city, arguable the best looking in the world.  I've been to Bergen many times in the past but I didn't want to visit this time, I had to for my mom's funeral.
Solveig, my mom, was beautiful as well.  Regardless of my mood, I noticed how beautiful the city was as I landed on my KLM flight from Amsterdam.  The sun was shining and the mountains were snow capped.  Delta had hooked me up with bereavement fares, so while the price stung it wasn't as bad as a last minute flight could have been.  Surprisingly the breakfast on the KLM flight from Atlanta to Amsterdam was the best I've ever had on a flight.  The dinners on both legs were quite horrible though with the salad having been replaced with odd slaws or couscous mixtures.  I went for a walk to fight off the jet lag and the sun was starting to disappear but the views from the Torget was still amazing.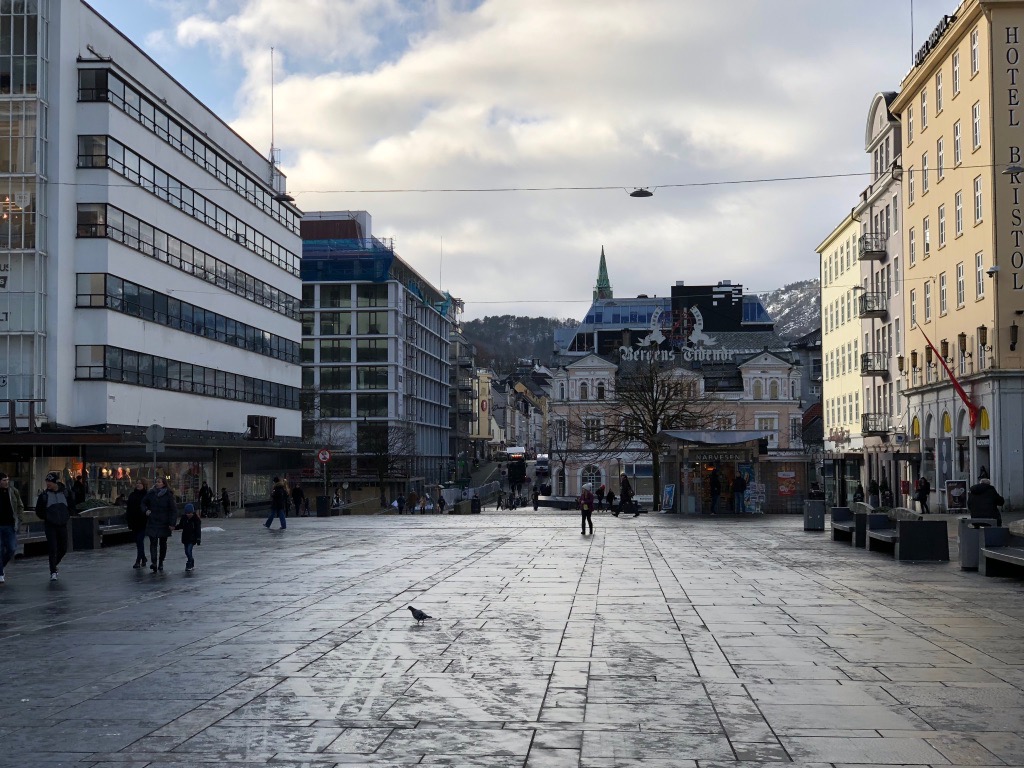 The moving funeral service brought family and friends to tears as we remembered my mother.  It was a small chapel in Møllendal, a valley near the city centre.  There a priest led a service that talked about Mom's life, passions, and the people she had touched.  I took a moment to read from Ecclesiastes 3.
To every thing there is a season, and a time to every purpose under the heaven:
A time to be born, and a time to die; a time to plant, and a time to pluck up that which is planted;
A time to kill, and a time to heal; a time to break down, and a time to build up;
A time to weep, and a time to laugh; a time to mourn, and a time to dance;
A time to cast away stones, and a time to gather stones together; a time to embrace, and a time to refrain from embracing;
A time to get, and a time to lose; a time to keep, and a time to cast away;
A time to tear, and a time to sew; a time to keep silence, and a time to speak;
A time to love, and a time to hate; a time of war, and a time of peace.
After the service we walked out in the cemetery and I helped lower the casket into the ground.  I couldn't help again but notice that my mother's final resting place was so beautiful.
We then gathered with family and friends and remembered my mother.  I remember mentioning some of my mother's passions.  She loved music and made sure that her children enjoyed music.  I took up piano playing when I was 5 years old and my brothers and sisters was also encouraged to learn instruments.  My mother also was obsessed with healthy food way before it became the hip thing to do.  She would look at ingredients lists, something I still do and encouraged me to focus on fruits and vegetables.  My mother also loved to travel and she did her fair share of traveling in her life.  I feel like I have traveled a lot, but in her shoes I've got some catching up to do.  She loved to meet new cultures and share her values.
After an exhausting day, I went to the Fløyen, where you can get panoramic views of Bergen.  I absorbed the views at sunset and dusk and still couldn't get over how beautiful the views were. Somehow it helped my heart heal.  The next day was my Grandmother's 95th birthday.  Spending more time with family who really welcomed my husband in open arms also helped my heart heal.  Sometimes, in the past, I felt that values separated us instead of focusing on the values that we all share.  Values like love.
So I didn't want to visit.  At first the beauty was haunting me, that something so horrible had happened amongst such beauty.  I'm glad I visited and saw the beauty of family caring for each other and reconnecting.  I know i'll be back, to sit and stare at the beauty and just remember how beautiful my mom really was.