My European Delivery continues as I drive my fabulous SLC further north in Europe.  First I head to Göteburg, then further north to Oslo before heading back south.
Day Four
We leave Copenhagen and immediately head towards Sweden on the famous Øresund Bridge.  What a breath taking bridge, luckily I film it all with my GoPro.  There is another border control and again our passports are in the trunk.  Lower Sweden is quite flat but as we near Göteburg the terrain becomes more hilly.  We stop in Göteburg for lunch, though the city roads are somewhat a nightmare.  Luckily Apple CarPlay helps me find my way despite the construction and my inability to follow what it tells me to do.
We continue northward toward Oslo and the terrain just becomes more beautiful.  It is starting to feel like 'home' even though I barely ever lived in Norway.  I came to the USA at a very young age even though I didn't get permanent residency until I was an adult.  Mostly on student visas but it makes me totally identify with DACA (Deferred Action for Childhood Arrivals) who call America home but on paper it is not so.  In fact my English is better than my Norwegian.  So if you are American, please call your Senator and Representative and ask for a permanent reinstatement of DACA.  Let them know America is home.  But, I digress…
We arrive at the Radisson Blu Plaza in Oslo.  Definitely the nicest hotel so far, they even offer valet parking.  Sure, someone else can enjoy my car for a few seconds.  I have a drink and dinner with my father on the 34th floor in the imaginatively called 34th Floor Restaurant.  I did quite enjoy the 3 course dinner with langoustine, lamb, and elderflower sorbet.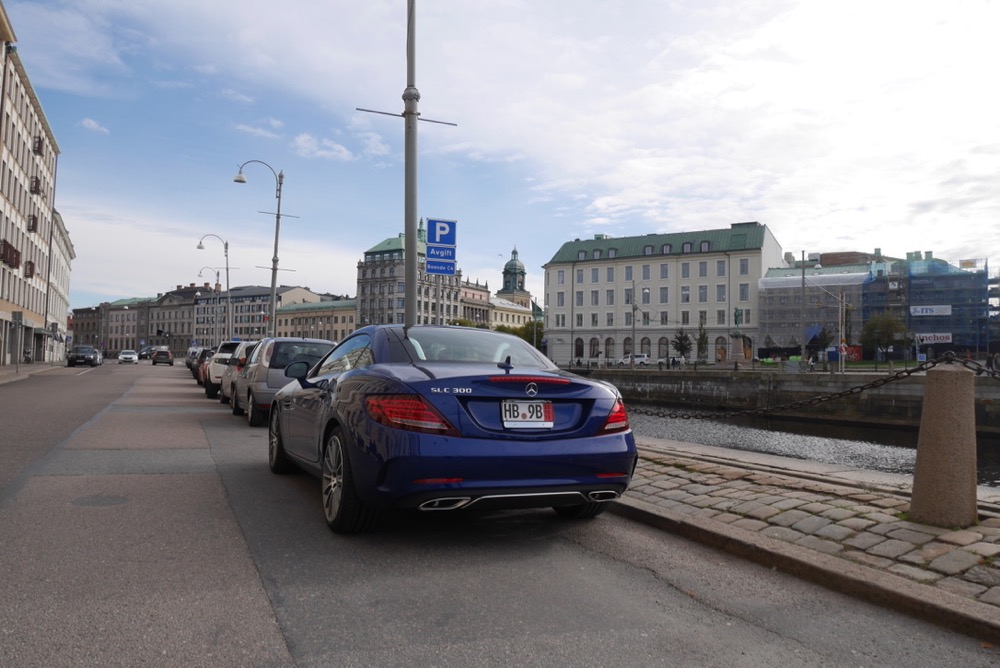 Day Five
We tour Oslo including a walk past Stortinget (Parliament) and up Carl Johan Gate to Slottet (Royal Palace).  We then headed towards the harbour for some amazing waterviews before heading back to our hotel.  It is time to start heading south towards Kristiansand.  It is also good timing because just as we start driving the rains start.  I like this drive though, very beautiful and you wish you could have filmed it all.  I had planned to film some of the drive with the help of my drone but the rain is too steady.
We arrive in Kristiansand and have to waste quite a bit of time because our Thon Hotel is closed without notification.  So we rebook at the Radisson Blu Caledonien which isn't much better as it is currently going thru a much needed renovation and expansion.
We proceed to my sisters and have dinner with her family and stay up late talking about travels, cars, and politics.
Day Six
Good morning Kristiansand!  I'm up early because I have to be in line at 07:00 so I can be on the Color Line Ferry to Hirtshals, Denmark.  The crossing time is about 3 hours and 15 mins and we paid for a reserved seat in the buffet.  The ocean is a little rough but you quickly get used to it.  We then continue to drive towards Hamburg, Germany where I will need to be tomorrow to drop of the car.  The average speed limit in Denmark is 130 KPH or about 81 MPH.  Once we hit the German Border the speed limit disappears and I'm easily doing 90 MPH (145 KPH) on average.  There is a lot of traffic and construction on the A7 towards Hamburg so speed limits quickly reduce to 80 KPH (50 MPH) but on an empty stretch of road I managed to hit about 130 MPH or 210 KPH.  Finally we arrive in Hamburg, Germany and check in at the Radisson Blu.